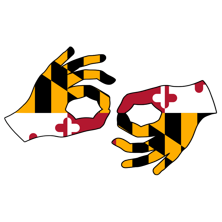 Listing Description
ASL Terps is a Deaf-Owned Sign Language interpreting agency dedicated to providing "Quality interpreting, Caring Hearts." We look forward to assisting you.
1006 Taylor Park Rd , Sykesville, MD 21784
Listing Description
The Hearing and Speech Agency is dedicated to connecting people to their worlds.
5900 Metro Drive , Baltimore, MD 21215

Listing Description
ASL INTERPRETING SERVICES
Hands in Motion provides highly qualified ASL interpreters for a variety of settings. We specialize in: education, medical, government, legal, platform/conferences and performing arts. We will provide you with the best personal service regardless of your needs.
2021 L. Street NW., Ste. 101-275 , Washington, DC 20036
To protect your personal data, your connection to the embedded map has been blocked.
Click the
Load map
button below to load the map. By loading the map you accept the privacy policy of
Google
.